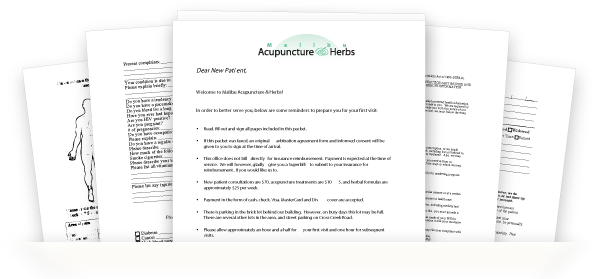 Welcome to Malibu Acupuncture & Herbs!
You may schedule an appointment by calling our office at 310-456-8811 or by emailing on the Contact Us page. Your first appointment will consist of your new patient consultation, health history and first acupuncture treatment. Please allow up to 90 minutes for this visit.
Please print and fill out all New Patient Forms before you arrive for your first visit. Alternatively you may fill out your forms in the office by arriving 15 minutes before your scheduled appointment time.
Please bring with you:

A copy of all recent labs and medical reports within the past year.

A list of all of the current medications you are currently taking including over-the-counter medications.

A list of all herbs, vitamins and nutritional supplements you are currently taking.
Additional guidelines for your first visit:

It is helpful to not drink caffeine within a few hours prior to your treatment.

Eat a light meal within 2 hours prior to your appointment time to ensure that you do not arrive hungry.

Wear comfortable loose fitting clothing if possible.

Please turn off cell phones prior to entering the office.
If you have any other questions about your first appointment, please feel free to contact us.
We look forward to meeting you!
Note: The forms are furnished in PDF format and require Adobe Acrobat, Acrobat Reader, or compatible application to view and/or print. The Acrobat Reader application is available to download for FREE.