Y
ou know you should be snacking every few hours to regulate blood sugar levels, energy and moods… but what to eat? Power bars make the easiest snacks. I throw one in my purse, my gym bag, you name it. I never want to be caught empty handed and hungry, reaching for the nearest bag of potato chips.
The problem is that most power bars are loaded with sugar and mimic a granola bar or a candy bar, more than anything that could sustain you.
My standards for a power bar are seriously high. It has to have a healthy balance between protein, carbs and sugar. It has to contain only the purest, highest quality ingredients. No cane sugar, sugar substitutes or ingredients that don't sound like food in my bar, only the best. Lastly it has to taste fantastic, hold me over until the next meal and contain valuable nutrition.
Elemental Superfood Seedbar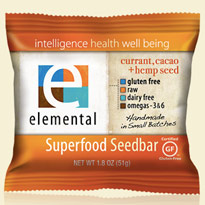 Superfoods as a snack? Um… yes, please. Raw, gluten-free and packed with amazing ingredients like cacao nibs, flaxseeds, mulberries, brazil nuts, and cacao butter, these superfood bars are not only nutrient rich, but totally delicious. I adore the mulberry, cacao & spirulina flavor. Other options include cranberry, almond & lucuma, currant, cacao & hemp seed, and dark chocolate and peanut butter. You pretty much can't go wrong.
Where to Buy: PC Greens, Coop Santa Monica

Greens Plus Bar
Before going gluten free 5 years ago, this was my absolute favorite bar. I love getting an extra serving of greens in. And then you coat it in dark chocolate? I must be dreaming. This bar also contains a high- ORAC antioxidant mix and immune boosting herbal extracts like astragalus and Japaneese green tea. It's technically gluten free but it does contain wheatgrass and barley grass, which can be a downer for some GF folks like myself. If that's not you, enjoy; this bar rocks.
Where to Buy: Most health food markets
Epic Bar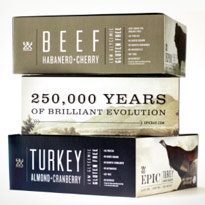 In all honesty, I was a little weirded out the first time I tried this bar. I like meat as much as the next girl, but the whole idea of eating it in a bar struck me as strange. Still I had multiple colleagues recommend it, and every time I went to the market there they were glaring me in the face. So I tried it! And since then I've "tried" 5 more.
I'm happy to say these bars deserve their reputation. The bison, lamb, turkey and beef used are hormone and antibiotic free, grass fed meats – always my first concern. The flavor combinations are excellent, and taste and consistency rate 5 stars. They pack a wallop of 14 grams of protein. If you are nut and seed free, eating a high protein diet, or just plain adventurous, this is your bar.
Where to Buy: PC Greens, Whole Foods, Erewhon
Perfect Bar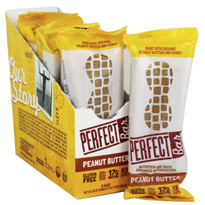 A high protein organic vegetarian bar, this is one of my go- to travel bars. It's ranks at the top of the list for being filling, and with an almond or peanut butter base, is also very satisfying. This is a good bar for people who can't eat nuts, but can do nut butters. It could be used as a meal replacement in a pinch or a high protein snack following a workout.
Where to Buy: PC Greens, Whole Foods (refridgerated section)
Cocomoe Joe Bar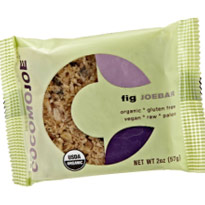 If you're a coconut fan, you will love this bar. It's coconut deliciousness and then some. Ingredients include walnuts, coconut nectar, chia seeds, and cold pressed vanilla. I go for the coffee (made with organic roasted coffee) and cocoa Joe Bars first, with the green, cranberry and fig Joe Bars all at a close second. With top notch flavor and only 8 grams of sugar, this one is a keeper.
Where to Buy: Whole Foods
Links:
elemental-raw.com
greensplus.com
epicbar.com
perfectbar.com
cocomojoefoods.com