Paleo, Dairy-free
I
f the idea of borscht brings up images of mysterious pink-red liquid encasing a gross river of sour cream, this recipe is sure to rock your world.
I call it Not–Your–Grandma's Borscht.
I love this soup because it has all the flavor of borscht minus the dairy. With immune-boosting creamy bone broth and plenty of leafy greens, its nutrition packs a punch. Plus its radiant color is sure to spark up any dinner table.
Bone broth is the ultimate superfood—it heals the gut lining, reduces inflammation, supports joints and more. I recommend using it as a base for all your soups and consuming it regularly.
Beet greens (whoever knew people ate these?) fall into the category of DGLV (dark green leafy vegetables), which in lay man's terms means they are one of the most nutrition packed foods you can eat. They're high in antioxidants, phosphorus, zinc, vitamin k (helps absorption of vitamin d) and vitamin a.
To make your borscht a full meal, try adding in some organic chicken or pork sausage (separately, otherwise the seasoning will disturb the flavor of your borscht).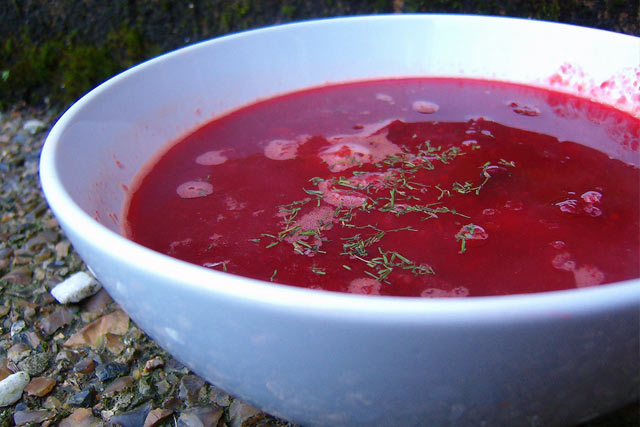 Superfood Borscht (Not–Your–Grandma's Borscht)
2017-03-14 13:53:17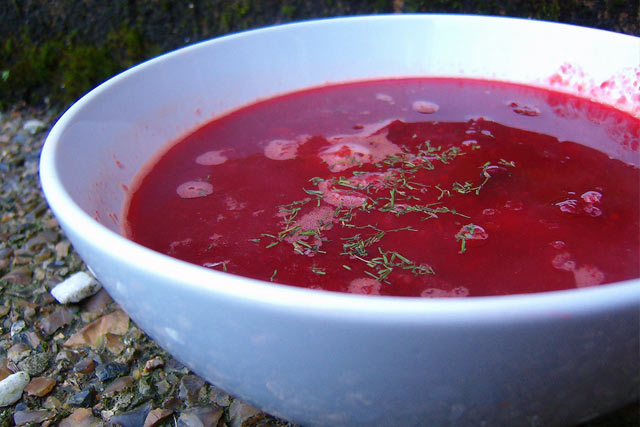 4-6 servings
Ingredients
Beef/chicken bone broth, enough to cover veggies
3 large beets, shredded
3 cups purple or green cabbage, sliced thinly
3 carrots, sliced thinly
2 cups beet greens, chopped
1 yellow onion, chopped
1-2 TBS coconut oil
2 TBS apple cider vinegar (or more, to taste)
3 bay leaves
sea salt and pepper to taste
Instructions
Heat coconut oil in a large pot
Add onion, cook until softened
Add beets, cabbage, carrots and bay leaves
Add enough bone broth to cover vegetables
Boil for 20 minutes or until vegetables are softened
Add apple cider vinegar and beet greens last 5 minutes
Season with sea salt and pepper
Malibu Acupuncture & Herbs http://malibuacupuncture.com/
Did this recipe transform you into a borscht lover too?
Let me know in the comments below!